9 Best Korean Essences (2023) For Youthful, Glowing Skin
Korean skincare is known for its innovation and effectiveness. The essence is one of the key products that have contributed to its popularity. Korean essences are lightweight, watery liquids designed to penetrate deeply into the skin. They effectively deliver a concentrated dose of active ingredients and help to hydrate, brighten, and firm the skin. And we often use them as a first step in a skincare routine.
Torontonians who need K-beauty scenes around them need not worry anymore. Authentic and high-quality Asian skin care products are now available online in Toronto's Asian beauty stores. Read on for the best scoop on the foundational Korean skin care product—Essence.
We have combed the internet to help you find the 11 Korean essences for youthful and glowing skin. We will also provide tips on choosing and using them. Whether you're a K-beauty fanatic or new to Korean skincare, these essences will surely give your complexion the boost it needs. Let's get rolling.
What to Look for in a Korean Essence?
When shopping for the best Korean essence, remember a few key things to ensure you choose the right product for your skin type and concerns. Here are some factors to consider:
Ingredients
Look for Korean essences that contain active ingredients that target your specific skin concerns, such as hyaluronic acid for hydration, niacinamide for brightening, or snail mucin for anti-aging.
Consistency and texture
Best Korean essences come in different consistencies. They could be watery to slightly thicker, so choose one that feels comfortable on your skin and is easy to apply.
Packaging
Look for essences in the air-tight pump or dropper bottles. They help preserve the ingredients' potency and freshness.
Considering these factors will help you select an essence that works well for your skin and gives you desired results.
Essence vs. Toner: The Ultimate Glow Recipe
Let me dispel a myth before we continue, one that even I, at the beginning of my skincare career, bought into. Essences and toners are similar in that they are both liquids, frequently come in the same container, and appear to perform the same function. I guess not quite.
Consider essences as your skin's personal trainer, getting it ready for a challenging exercise. They get your skin going at the cellular level, preparing it to benefit from the serums and moisturizers that will come next. In order for the remainder of your skincare products to be thoroughly absorbed and do their full magic, it acts as a welcome mat.
The 11 Best Korean Essences for Youthful And Glowing Skin
Missha Time Revolution First Treatment Essence
This iconic Korean essence contains fermented yeast extract to brighten and hydrate the skin. It helps improve skin texture and elasticity to a great extent.
Cosrx Advanced Snail 96 Mucin Power Essence
This essence contains 96% snail mucin extract. It helps repair and soothe the skin and improve its overall health and appearance.
Benton Snail Bee High Content Essence
This best Korean essence contains a blend of snail mucin, bee venom, and other natural ingredients. These ingredients effectively soothe, hydrate, and brighten the skin, as well as improve its elasticity. This product is definitely a must-buy from SKIN.TO, an online Asian beauty store in Canada.
Innisfree Jeju Orchid Essence
This essence is made with orchid extract from Jeju Island. This works wonders in improving skin elasticity, hydration, and texture. Besides, this product is a great protector against environmental damage.
I'm From Mugwort Essence
This best Korean essence contains 100% mugwort extract. It helps to soothe and calm irritated skin, as well as provides hydration and anti-aging benefits.
Neogen Real Ferment Micro Essence
This superb K-beauty essence contains over 93% fermented ingredients, including bifida, lysate, saccharomyces, and filtrate, to brighten, hydrate, and firm the skin.
Primera Miracle Seed Essence
Well, this amazing K-beauty skincare is made with lotus seed extract, which helps hydrate and brightens the skin, reducing the appearance of fine lines and wrinkles.
Sulwhasoo First Care Activating Serum EX
This luxurious essence contains a blend of Korean herbal extracts to improve skin radiance, hydration, and texture while reducing signs of aging.
Melano CC Spot Treatment Essence
You can make the most of this serum. It helps in reducing acne scarring, dark spots, and discoloration, evening skin tone, protecting from sun damage, and lightening hyperpigmentation. For the best results, apply to the face right after cleansing.
These Korean essences are all highly rated and well-loved by K-beauty enthusiasts and will give your skin a youthful, glowing boost.
How to Use Korean Essences
Using a Korean essence is easy. You can incorporate it into your skincare routine in a few simple steps. Here's a basic guide on how to use a Korean essence:
Cleanse your face
Begin by cleansing your face with a gentle cleanser and pat dry with a clean towel.
Apply toner
Next, apply a toner to help balance your skin's pH levels and prepare it for the essence.
Dispense the essence
Shake the essence bottle well and dispense a small amount onto your fingertips or a cotton pad, followed by Korean makeup Canada.
Apply the essence
Gently pat the essence onto your skin, starting from the center of your face and working your way outwards. Be sure to cover your entire face, including your neck.
Follow up with your usual skincare routine.
After applying the essence, follow up with the rest of your skincare routine, including serums, moisturizers, and sunscreen.
It's important to note that you can use a Korean essence both morning and night and adjust the amount you use based on your skin's needs. Additionally, some best Korean essences can be used as a substitute for toner, while others can be combined with a toner. Experiment to find what works best for you and your skin.
You may Also like Reading: Best Small Business Fulfillment Companies In 2023
Missha Time Revolution Artemisia Treatment Essence: The Calming Champion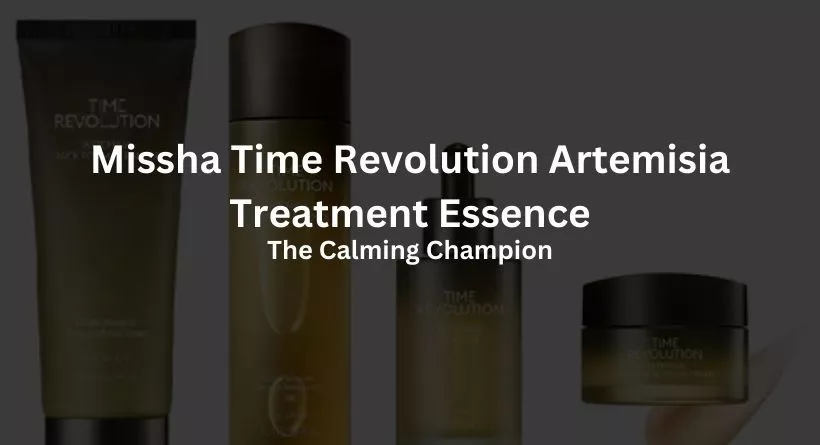 The Artemisia Treatment Essence from Missha's portfolio is a game-changer for hydrating skin and minimising redness.
This anti-inflammatory substance is loaded with antioxidants and is made entirely from artemisia extract (also known as mug wort). The power of the nutritious components in the Missha essence is increased by a twofold fermentation process. Anyone with mixed skin ought to try it.
Acwell Licorice pH Balancing Essence Mist: The Perfect Pick-Me-Up
A holy grail item that seamlessly fits into every Korean essence list is the Acwell Licorice pH Balancing Essence Mist.
I often reach for this milky-textured essence spray to instantly freshen my skin. It balances and calms the skin and leaves it feeling renewed and fresh because it is packed with healthy nutrients. All you need is one or two spritzes throughout the day!
Conclusion
You now have my tried-and-true suggestions for the top Korean essences to improve your skincare regimen, skincare fans. Remember, finding products that are right for your skin type and needs is crucial since the path to beautiful skin is truly personal and unique. Although utilised regularly and appropriately, these essences are not miracle cures. Your skin will benefit greatly from them. Always conduct a patch test on new products to rule out any potential sensitivity and be gentle with your skin and attentive to its demands. It may be revolutionary to take the time to study your skin and give it the nutrients it requires.If you are already a lover of Korean skincare, I hope this list encourages you to try something new. Keep in mind that you are gorgeous exactly the way you are; these skincare practises are merely for maintaining the skin you are in. So go ahead and include it into your regimen and let your shine out!
FAQs
Is facial essence necessary?
A skin essence or facial essence may be quite beneficial even if it isn't a necessary step in a regimen like washing your face. According to Megan Felton, co-founder of expert-led skincare consultancy business Lion/ne, "An essence often has similar benefits to a serum, meaning it will have a lower molecular weight than a moisturizer and will, therefore, penetrate the skin more deeply when formulated properly."
Is Korean facial essence best?
You'll note that the majority of facial essence brands are Korean if you want to give them a try. This class of products was just recently introduced to the west and was popularized by the 10-step Korean skincare regimen. The market for this kind of product has been monopolized by Korean skincare companies, who make a wide variety of them. There is no evidence that a certain nation's products are the "best," but you can't go wrong with a face essence from the nation that made them popular.
Can I use essence every day?
To determine how frequently to use a product, always read the label. There are several essences that should be used twice daily, once daily, and infrequently. As with everything else you use, read the instructions carefully to find out how to use the product so that it can operate at its optimum without irritating your skin.
What is face essence used for?
Since there is no one size fits all for essences, each product has a unique function. According to Christine Chang and Sarah Lee of Glow Recipe, Charlotte Cho of Soko Glam, and Christine Chang and Sarah Lee of Glow Recipe, "essences are liquid treatments that efficiently infuse the skin with hydration and/or anti-aging actives and have a lightweight texture that is great for layering."